February 5, 2018
Bioresorbable Fiber Bragg Gratings
Stavros Pissadakis' group at FORTH (Greece) inscribed Fiber Bragg Gratings on bioresorbable optical fibers fabricated by PhotoNext and Istituto Superiore Mario Boella - ISMB researchers.
- PhotoNext team involved MAPS (Materials for Photonics and Sensing): Davide Janner, Daniel Milanese, Diego Pugliese, Edoardo Ceci Ginistrelli (now at VeriVin).
- ISMB researcher: Nadia G. Boetti.
Results are published on Optics letters.
Press Release from The Optical Society can be found here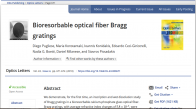 Published on: 13/02/2018